Keynote Speakers
Hanan Ashrawi was the first woman to be elected member of the Executive Committee of the Palestine Liberation Organization (PLO) in 2009. She served as the Official Spokesperson of the Palestinian Delegation to the Middle East peace process from 1991-1993 and participated in the 1991-1992 Madrid peace conference as a member of the Palestinian Leadership Committee delegation. In 1993 Dr. Ashrawi founded the Palestinian Independent Commission for Citizens' Rights (PICCR) to investigate Israeli and Palestinian human rights violations. She chronicled her involvement in her book This Side of Peace: A Personal Account (1995). In 1996, Ashrawi was elected and subsequently reelected many times to the Palestinian Legislative Council. In 1996 she also accepted the post of Minister of Higher Education and Research. In 1998 Ashrawi founded and continues to serve in MIFTAH, the Palestinian Initiative for the Promotion of Global Dialogue and Democracy. At the conference, she will address the Israel lobby and the "Peace Process."
John Mearsheimer is the R. Wendell Harrison Distinguished Service Professor of Political Science and the co-director of the Program on International Security Policy at the University of Chicago. In 2007 Professor Mearsheimer coauthored The Israel Lobby and U.S. Foreign Policy (with Stephen M. Walt), which made the New York Times best seller list and has been translated into 22 languages. Professor Mearsheimer will address what, if anything, has changed in the decade since The Israel Lobby was published, subsequent findings, foreign policy choices the U.S. makes that it otherwise would not—if not for Israel—and what the new administration could do differently in the future that would better serve broader American interests.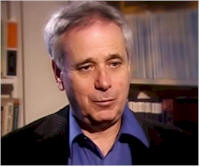 Ilan Pappé is Professor of History and Director of the European Centre for Palestine Studies at the University of Exeter in the UK. His research focuses on the modern Middle East, particularly on the history of Israel and Palestine. He is the author of the books The Ethnic Cleansing of Palestine (2007), Israel and South Africa: the Many Faces of Apartheid (2015) and The Idea of Israel: A History of Power and Knowledge (2016), among others. He will discuss the value of viewing Israel-Palestine through the lens of settler-colonialism, how Zionist myths have been shaped and/or perpetuated by the Israel lobby, and what framework is necessary to overcome these myths and ensure that efforts to resolve the "conflict" are grounded in reality.
Presentations by
Wajahat Ali is a journalist, writer, lawyer, an award-winning playwright, a TV host, consultant, and Creative Director of Affinis Labs. He was a National Correspondent, Political Reporter, and Social Media Expert for Al Jazeera America. In 2012, Ali worked with the U.S. Department of State to design and implement the "Generation Change" leadership program to empower young social entrepreneurs.
Ali was the lead author and researcher of "Fear Inc., Roots of the Islamophobia Network in America," the seminal report from the Center for American Progress.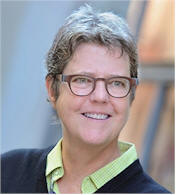 Katherine Franke is the Sulzbacher Professor of Law at Columbia Law School, where she also directs the Center for Gender and Sexuality Law and is the faculty director of the Public Rights/Private Conscience Project. She is a member of the Executive Committee for the Institute for Research on Women, Gender and Sexuality, a member of the Steering Committee for the Center for the Study of Social Difference, and an Affiliated Faculty member for the Center for Palestine Studies. She is among the nation's leading scholars writing on law, religion and rights, drawing from feminist, queer, and critical race theory.

Her most recent book, Wedlocked: The Perils of Marriage Equality, NYU Press, 2015, considers the costs of winning marriage rights for same sex couples today and for African-Americans at the end of the Civil War. Franke was awarded a Guggenheim Fellowship in 2011 to undertake research for Wedlocked. In addition to her work at the Law School, she works regularly in Palestine, most recently serving as an academic mentor for the human rights faculty at Al Quds University in East Jerusalem, and sits on the steering committee of the Academic Advisory Council of Jewish Voice for Peace. She also chairs the board of directors of the Center for Constitutional Rights, based in New York City.

Before coming to the Law School, Franke was an associate professor at Fordham Law School and the University of Arizona College of Law. From 1990 to 1991, she was the executive director of the National Lawyers Guild. Prior to that, she worked for the New York City Commission on Human Rights and founded the AIDS and Employment Project.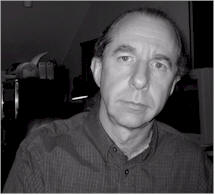 Tom Hayes, Lecturer in the Film Division at Ohio University, originally hails from Vermont. At the age of 15 he won the Kentucky Educational Television Young Peoples Film Competition. He worked his way through film school in the 70's crewing on cargo ships, and working as a drive-in projectionist. Working as media freelance on commercial productions enabled him to pursue his independent documentary projects. Hayes's first long form documentary focused on the experience of Cambodian refugees, from their lives in a refugee camp on the Cambodian border, through their first year of resettlement in the U.S. That film, Refugee Road, was broadcast nationwide on PBS.
In the early eighties his interest turned from the Cambodian refugee experience to the odd situation of Palestinian refugees in Lebanon. Weathering the Israeli occupation of Lebanon, and ongoing civil strife, he produced Native Sons: Palestinians in Exile, narrated by Martin Sheen. Once faced with the realities of the Palestinian experience, Hayes became engaged with the issue and continued documenting the human and political rights situation of this human community for decades. The Independent Television Service funded his film, People and The Land, about the role of the United States during the first Palestinian Intifadah. His latest film, Two Blue Lines, integrates footage Hayes began gathering in 1983, up to the present.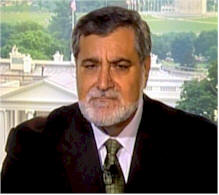 Khalil Jahshan has been serving as Executive Director of Arab Center Washington DC (ACW) since its inception in 2014.

Between 2004 and 2013, Jahshan was a lecturer in International Studies and Languages at Pepperdine University and Executive Director of Pepperdine's Seaver College Washington DC Internship Program. Previously, Jahshan served as Executive Vice President of the American-Arab Anti-Discrimination Committee and Director of its government affairs affiliate, NAAA-ADC. Throughout his career he has held numerous positions, including Vice President of the American Committee on Jerusalem, President of the National Association of Arab-Americans, and National Director of the Association of Arab-American University graduates. He received a bachelor's degree in political science and French from Harding University in 1972.

Mr. Jahshan has served on the board of directors and advisory boards of various Middle East-oriented groups including ANERA, MIFTAH and Search for Common Ground. He has appeared on various media outlets such as Al-Jazeera, Al-Hurra, CCTV, Al-Arabiya, C-SPAN, and Charlie Rose.
Jim Moran is a former U.S. Representative for Virginia's 8th congressional district in Northern Virginia, including the cities of Falls Church and Alexandria, all of Arlington County, and a portion of Fairfax County. Moran served from 1991 to 2015, and is a member of the Democratic Party. While in congress, Moran was a staunch critic of moving the U.S. Embassy from Tel Aviv to Jerusalem and the major role the Israel lobby played in pushing for the U.S. invasion of Iraq.

Moran was the mayor of Alexandria, Virginia from 1985 to 1990, when he resigned to run for Congress. He defeated Republican incumbent Stanford Parris in the general election on November 6, 1990, and was sworn in the following January. He is of Irish descent, and is the son of professional football player James Moran Sr. and the brother of former Democratic Party of Virginia Chairman Brian Moran.

Moran announced on January 15, 2014, that he would retire from Congress at the end of his term. Moran is currently a professor of practice in the School of Public and International Affairs in the College of Architecture and Urban Studies at Virginia Tech.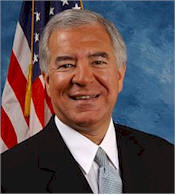 Former Congressman Nick Joe Rahall II, a grandson of Lebanese immigrants, represented West Virginia in the U.S. Congress from 1977 to 2015. When he was elected, the 27-year-old became the youngest member of Congress.

Rahall was one of only 8 House members to vote against the Authorization for Use of Military Force against Iraq in 2002 that preceded the Iraq War.

Rahall has repeatedly expressed concern about America's relationship with Israel, stating, "Israel can't continue to occupy, humiliate and destroy the dreams and spirits of the Palestinian people and continue to call itself a democratic state." He has affirmed that America's interests would be served by getting the peace process back on track, and regretted the U.S. vetoes of U.N. resolutions against Israeli settlement building.

The Congressman pressed the State Department to end a ban on travel to Lebanon until the ban was finally lifted in 1997. Rahall also expressed concern over a bipartisan resolution supporting Israel in the 2006 Israel-Lebanon conflict without adding language urging restraint against civilian targets. Rahall helped draft a resolution that urged "all parties to protect innocent life and civilian infrastructure."
Internationally acclaimed author and media critic Dr. Jack G. Shaheen is a committed internationalist and a devoted humanist. His lectures and writings illustrate that damaging racial and ethnic stereotypes of Arabs, blacks, and others injure innocent people. He defines crude caricatures, explains why they persist, and provides workable solutions to help shatter misconceptions.
Dr. Shaheen, a distinguished visiting scholar at New York University (NYU), served as a CBS News Consultant on Middle East Affairs from 1993-98. As a professional film consultant, he has consulted with writers and producers such as writer-director Stephen Gaghan on Syriana (2005), and producer Chuck Roven on Three Kings (1999), as well as with Coca-Cola's creative team. He is a 2013 recipient of the Ellis Island Medal of Honor, which pays homage to those individuals who have distinguished themselves in the cultural mosaic of America.
Shaheen has given more than 1,000 lectures in nearly all 50 states and on three continents. In cooperation with the U.S. government, Dr. Shaheen has conducted seminars throughout the Middle East. He also consulted with the United Nations, the Los Angeles Commission on Human Relations, the Justice Department's Civil Rights Division, and New York City's Commission on Civil Rights.
Shaheen's book, A is for Arab: Archiving Stereotypes in U.S. Popular Culture, features telling photographs of materials from the Jack G. Shaheen Archive at NYU. His book and a special traveling exhibit documents U.S. popular culture representations of Arabs and Muslims from the early 20th century to the present. NYU's Shaheen Archive contains more than 4,000 images, including motion pictures, cartoons,and TV programs, as well as toys and games featuring anti-Arab and anti-Muslim depictions.
His other books are: Nuclear War Films, The TV Arab, Arab and Muslim Stereotyping in American Popular Culture, the award-winning book [and DVD] Reel Bad Arabs: How Hollywood Vilifies a People, and GUILTY: Hollywood's Verdict on Arabs after 9/11. His writings include 300-plus essays in publications such as Newsweek, The Wall Street Journal, The Washington Post and the Washington Report on Middle East Affairs, as well as dozens of chapters on stereotypes in numerous college textbooks.
Dr. Shaheen, an Oxford Research Scholar, is the recipient of two Fulbright teaching awards; he holds degrees from the Carnegie Institute of Technology, Pennsylvania State University, and the University of Missouri. He has appeared on national network programs such as CNN, MSNBC, National Public Radio, Nightline, Good Morning America, 48 Hours, and The Today Show.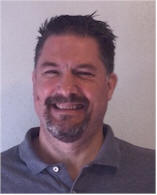 Grant Smith is the director of the Washington, DC-based Institute for Research: Middle Eastern Policy (IRmep). He is the author of the 2016 book Big Israel: How Israel's Lobby Moves America about the history, functions and activities of Israel affinity organizations in America. Smith has written two unofficial histories about the American Israel Public Affairs Committee (AIPAC). America's Defense Line: The Justice Department's Battle to Register the Israel Lobby as Agents of a Foreign Government and Foreign Agents: AIPAC from the 1963 Fulbright Hearings to the 2005 Espionage Scandal.
Smith's reports about the Israel lobby appear frequently in the Washington Report on Middle East Affairs and Antiwar.com news website.
Moderators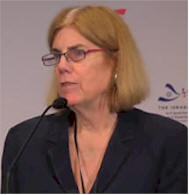 Janet McMahon is the managing editor at the Washington Report on Middle East Affairs.

She earned her B.A. in English at Reed College and has a graduate diploma in Middle East Studies from the American University in Cairo.

She is an expert on the Israel lobby and pro-Israel political action committees (PACs).

McMahon co-edited Seeing the Light: Personal Encounters With the Middle East and Islam, and Donald Neff's 50 Years of Israel, both compilations of feature articles from the Washington Report on Middle East Affairs.

She also edited Stealth Pacs: Lobbying Congress for Control of U.S. Middle East Policy by Richard H. Curtiss.

In addition to her editorial duties, she has written special reports on Israel and Palestine, and has contributed articles to special issues of the Washington Report on Iran, Tunisia, Cyprus and Libya.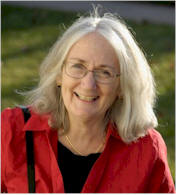 Delinda Hanley is the executive director and news editor at the Washington Report on Middle East Affairs. Before joining the magazine in 1996, Hanley spent decades in the Middle East, studying in Lebanon, volunteering with the Peace Corps, and later working in Oman and Saudi Arabia.

From 1990 to 1996 Hanley worked as a researcher, editor and writer for Empire Press (now Weider History Group) and Sovereign Media.

Hanley writes for the Washington Report on an array of topics, including Muslim- and Arab-American politics and civil rights issues. Her articles have also been published in the Arab News, the Minaret, Islamic Horizons, Jewish Spectator and other publications.

She is the winner of the NAAJA 2011 Excellence in Journalism award for her dedication to accuracy and professionalism.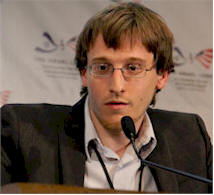 Dale Sprusansky is the assistant editor of the Washington Report on Middle East Affairs.

He reports on the U.S.-Israel relationship and its impact on the Palestinian people and the broader Middle East.

Sprusansky received his B.A. in Political Science from Stetson University in DeLand, FL.

He has lived in Egypt and traveled extensively throughout the region.